Christmas Course with Gen-la Kelsang Kunsang
at Manjushri Kadampa Meditation Centre, Lake District
At a time of giving we may wonder, 'What is the best gift I can make to others?'
The answer is inner peace. Whoever has this will be happy all the time, whatever their circumstances. No material gift can do this. We develop the power to give peace and happiness to others through meditation on love.
Gen-la Kelsang Kunsang is a retired Deputy Spiritual Director of NKT-IKBU and the Resident Teacher of both KMC Glasgow and KMC Edinburgh. She is an International Teacher with over 25 years of experience who has won the admiration and affection of many students through her extraordinary pure example and her loving-kindness.  
The course will begin on Sat 23 in the evening with supper and end on Wed 27 with lunch.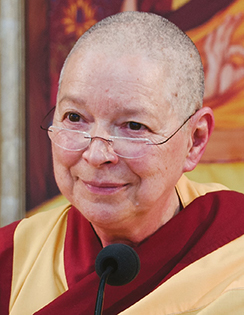 How to get to Manjushri Kadampa Meditation Centre