Courses with Gen-la Dekyong
Gen-la Kelsang Dekyong is the General Spiritual Director of NKT-IKBU and Resident Teacher at Manjushri KMC.
Born in the UK she has been studying under Venerable Geshe Kelsang Gyatso for over 30 years.
Ordained as a Buddhist nun, Gen-la Dekyong has devoted her life to helping others by promoting modern Buddhism.
She teaches at major events throughout the world is well loved by thousands of students for her ability to touch their hearts by showing how Buddha's teachings are directly relevant to their lives today.
Weekend Course with Gen-la Dekyong – May I Become Just Like You
Mar 2 – 4, 2018
Living as a Faithful Modern Kadampa Disciple
with Gen-la Kelsang Dekyong
Our deep yearning to draw close to our Spiritual Guide leads us into our heart, and to realize all the stages of the path of Sutra and Tantra through receiving our Guru's powerful blessings.
Please Note: There has been a change to this course, the subject will be the same but now with commentary to the Request to the Lord of All Lineages prayer.
Followed by a guided retreat with Kadam Bridget Heyes, UK & Dutch National Spiritual Director & Resident Teacher of Nagarjuna KMC, Kelmarsh – March 4 – 6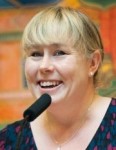 Retreat following Gen-la weekend course with Kadam Bridget
Mar 4 – 6, 2018
Public Talk with Gen-la Kelsang Dekyong – Looking with Wisdom
Jun 24, 2018
Making everything that happens to you help you to become a better person.
Learn how Kadampa Buddhism offers practical advice for busy life
Enjoy a guided meditation and experience peace of mind
Explore the peaceful grounds, stay for lunch or relax in the World Peace Café