The January Retreats 2018
The Four Great Preliminary Guides
A special opportunity to gain experience of the four preliminary practices of Mahamudra in guided retreat. Based on The Oral Instructions of Mahamudra by Venerable Geshe Kelsang Gyatso Rinpoche.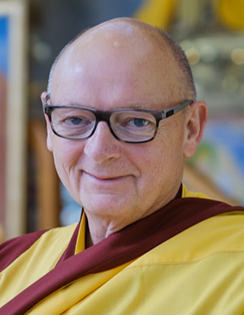 Teacher: Gen-la Kelsang Thubten
Sincerely entering the path
Week 1 Jan 3 - 10
Training in sincerely going for refuge, the gateway to entering Buddhism, and training in the compassionate mind of bodhichitta, the gateway to entering the Mahayana, the main path to the state of enlightenment.
Removing obstructions to our spiritual practice
Week 2  Jan 10 - 17  
Training in purification practice, the gateway to purifying non-virtuous actions and obstructions.
Week 3  Jan 17 - 24
Training in the practice of the mandala offering, the gateway to accumulating the collection of merit and attaining an enlightened Pure Land.
Empowering our mind with the Guru's blessings
Week 4  Jan 24 - 31  
Training in Guru Yoga, the gateway to receiving blessings.
Heruka and Vajrayogini Counting Retreat
Vajrayogini Retreat Jan 3 - 31     Heruka Retreat Jan 4 - Feb 8