with Gen-la Kelsang Thubten
IN THE TEMPLE FOR WORLD PEACE
New Year's Eve Celebration December 31, 2017
Start the year with a fresh and confident perspective on yourself.
Timetable: 
8.30 - 9.45pm   Talk with meditation
9.45 - 11.15pm   Refreshments
11.15pm - 12.15am    Guided meditation with prayers for world peace
Become the person you want to be
New Year's Day - Day Course January 1, 2018
At the start of the year our mind naturally turns to ways we can make our life more meaningful and rewarding. On this course we will learn four special meditations to identify and realize our true potential throughout the year.
Timetable: 
10 - 11am   Teaching and meditation
12 - 1pm   Teaching and meditation
2.30 - 3.30pm   Teaching and meditation
4.15 - 5pm   Teaching and meditation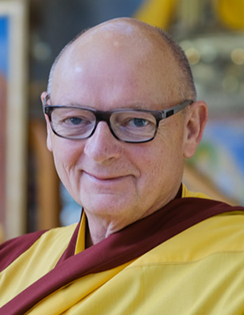 Gen-la Kelsang Thubten is a senior Teacher of modern Kadampa Buddhism who has been a disciple of Venerable Geshe Kelsang Gyatso for forty years and was the principal editor for many of his books. He is renowned for his ability to present the many deep meanings contained within Venerable Geshe-la's books and to show how to integrate them into daily life.
How to get to Manjushri Kadampa Meditation Centre