Foundation Programme Monday
This newer Foundation Programme at Manjushri KMC takes place on a Monday evening. The book being studied currently is The New Eight Steps to Happiness by Venerable Geshe Kelsang Gyatso Rinpoche. Part 2 of this book began on Mon 17 June 2019.
Teacher
This class is taught by Gen-la Kelsang Dekyong, the General Spiritual Director of NKT-IKBU and Resident Teacher at Manjushri KMC, is a modern Buddhist nun dedicated to helping people from all walks of life attain lasting happiness through developing inner mental peace.
She has been a student of Venerable Geshe Kelsang Gyatso for thirty years, during which time she has inspired thousands of people around the world through her sincere reliance on her Spiritual Guide, taking his teachings to heart and putting them into practice in every aspect of her life.
Gen-la Dekyong is a highly experienced Buddhist Teacher who has taught at many different centres internationally.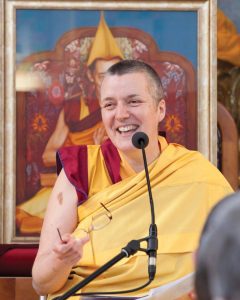 Class dates
Monday 7:00 - 9:30 pm
2019
Dec 9
Dec 16
2020
February 3, 17 & 24
March 9, 16, 23 & 30
April 6, 20 & 27
May 4 & 11
Spring Festival
June 8, 15, 22 & 29
July 6 & 13
Summer Festival
The classes will then start again on Sept 7.
Exam
The New Eight Steps to Happiness, Part 2, date to be confirmed
Further information & enrolment
For more information and enrolment please contact the Education Programme Coordinator on: education@manjushri.org