Foundation Programme Sunday
Foundation programme gives us the opportunity to take our understand and spiritual practise to a deeper level - helping us to integrate it naturally into our daily life. Sunday FP offers a special opportunity to join the community for a day, enjoying the company of spiritual friends, teachings, lunch and puja together in this blessed environment. Currently the class is studying Joyful Path of Good Fortune.
Teacher
This class is taught by Gen Kelsang Togden. Gen Togden is a senior Kadampa Buddhist Teacher who has been a disciple of Venerable Geshe-la for 25 years and has taught in a number of countries at Kadampa centres. He dedicates his life to helping people find more happiness and meaning in life through meditation practice and the Buddhist spiritual path. He is known for his broad smile and good humour and presents the teachings in a clear and practical way.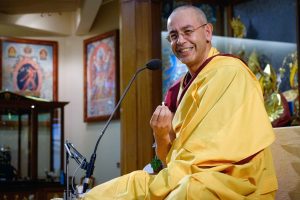 Class dates
Sunday 10:00 am - 12:00 noon and 2:00 - 4:00 pm
2019
January 12, 19 & 26
February 2, 9 & 23
March 8, 15, 22 & 29 (15 pm class only)
April 5, 19 & 26
May 3 & 10
Spring Festival
June 7, 14, 21 & 28 (14 pm class only)
July 5 & 12
Summer Festival
The classes will then start again on Sept 6.
Exam
Jofful Path of Good Fortune Part 2, date to be confirmed
Further information & enrolment
For more information and enrolment please contact the Education Programme Coordinator on: education@manjushri.org