The January Retreats 2018
A perfect start to the year
During January 2018 there will be four weeks of retreat on the Mahamudra preliminaries guided by Gen-la Kelsang Thubten. You are welcome to attend as many days as you wish.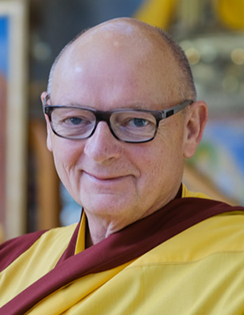 Teacher: Gen-la Kelsang Thubten
What is the retreat about?
Known as the 'four great preliminary guides', the four practices of sincerely going for refuge, purification, accumulating merit and receiving blessings are the very foundation of successful Mahamudra practice. In his book The Oral Instructions of Mahamudra, Venerable Geshe-la said:
The four preliminaries are like the four wheels of the car. If any of the wheels is missing, the car will not be able to function; and, in the same way, if any of the four preliminaries is missing we will not be able to travel to the Buddha ground through the practice of Mahamudra.
Gen-la Thubten will give practical guidance and lead the sessions according to the special oral instructions of Mahamudra.
The retreat is in four parts with one week devoted to each of the preliminaries. You can join and leave at any stage.
Jan 3 - 10 - Training in sincerely going for refuge
Jan 10 - 17 - Training in purification practice
Jan 17 - 24 - Training in the practice of the mandala offering
Jan 24 - 31 - Training in Guru yoga
Find out more about these practices in The Oral Instructions of Mahamudra.
A special time in a special place
During the month of January an exceptional peace falls upon Manjushri KMC as the centre enters into retreat mode.
Inside the Temple where the retreat takes place you feel the extraordinary blessings from Venerable Geshe-la having taught, given empowerments and made prayers in that holy place for so many years. For Kadampas there is not a more blessed place in this world
To join a retreat at Manjushri during this special time, even for a few days, is an experience you will always treasure.
'If we really wish to attain permanent liberation from all the sufferings of this life and our countless future lives, and experience the ultimate bliss of enlightenment by depending upon the practice of Mahamudra, it is very important that we put great effort into the practice of the four great preliminary guides.'
VENERABLE GESHE KELSANG GYATSO RINPOCHE
Heruka and Vajrayogini Counting Retreat
Vajrayogini Retreat Jan 3 - 31     Heruka Retreat Jan 4 - Feb 8