School and College Visits on Weekdays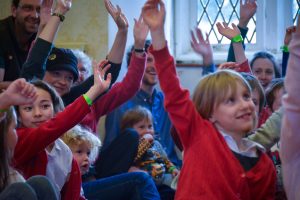 Many Teachers are bringing their students to the modern Kadampa Buddhist Temple which is an amazing place that is peaceful and inspiring. They meet a Buddhist teacher who shares their experience of living a Modern Buddhist way of life and so brings alive what the students are learning at school or college.
The Temple is a special place. As you can see the Temple is a beautiful and peaceful holy place that contains statues and paintings of Buddhas, scriptures, shrines with offerings, and many Buddhist symbols. Teachers are often surprised at how responsive their students are when they are in the Temple.
What happens during your visit
1½ hours is spent with a Buddhist teacher. Visits begin in the historic house. Then we walk through the gardens to the Temple, the centrepiece of which is a large statue of Buddha Shakyamuni. It is a calming and inspiring environment. We can explain Buddha's life story and the main Buddhist beliefs. We can include a simple relaxing meditation, or more structured meditation to develop a positive mind like love.
Our teachers are familiar with the Key Stages of the Religious Education Syllabus. Please specify on the booking form what you would like our teacher to include so it ties in with your students classroom studies.
After your session with our teacher you could draw Buddhas in the historic house, fill out worksheets you have prepared, relax in the gardens and walk to the beach.
You can make it a complete day out - in addition to the spiritual aspect you could include your own history, environmental and art studies around the historic house, gardens, woodland and beach. Or combine the trip with a visit to another spiritual place or educational attraction nearby - we can make suggestions if you like.
How to book a weekday Education visit
We have visits from Monday to Thursday with one education visit each day. You can arrive at a time that suits your group.
We will welcome you on your arrival at our car and coach park. Maximum number is about 48 students
Please email your preferred dates to our Visits Manager at visits@manjushri.org, OR ask for an email to be sent with all our currently available dates so you can choose a suitable one. We will also email our Information Pack and separate Booking Form. When the date and arrival time is agreed please email or post your booking form, and we will email a confirmation letter. We are finding it quicker and more efficient to use email.
Our 2016 and 2017 charges are:-
Pre-school & Primary £2.50 each
Secondary, Sixth Form £3 each
Further Education / Adults £4 each
There is no charge for teachers or parents.
Payment. No deposit required. We will give you a Invoice for the final numbers on the day. Can also email a copy of the
Invoice to your School or College Accounts if required. Cheques made payable to 'Manjushri KMC' please.
We look forward to welcoming your group.