Volunteering is an ideal opportunity to enjoy a rewarding break where you can quickly feel part of our thriving community.
The work on offer is varied and provides a perfect opportunity to experience the Buddhist way of life first hand for a week.
"I had an amazing time during my volunteering visit. Everyone was really down to earth and friendly. I loved the classes on Buddhism and was greatly inspired to see a community that was striving to put the teachings into practice. Plus, the other volunteering visitors were great fun too."
"Thank-you all very much for making me a feel so welcome.  I have gained so much from my visit and have been truly inspired by the peace and compassion that everyone i have spoken to holds in their hearts and shows in their good deeds."
What to expect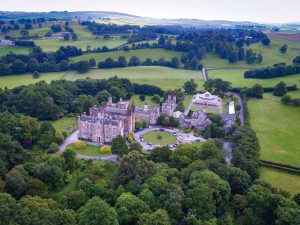 Conishead Priory is a Grade 2* Romantic Gothic House located just south of the English Lake District It is situated in 70 acres of woodland and gardens on the shores of Morecambe Bay. It provides a quiet and reflective environment for a meaningful break.
The work is varied and could include cooking, gardening, office work, decorating etc. We also have various building projects on the go at any one time that you could get involved in. We are always interested to hear about any specific skills you may be able to offer. Although the work is not always strenuous you will need to be reasonably fit and active to come on a volunteering visit.
Your weekends are free time so an ideal time to travel into the Lakes, Coniston is only half hour drive away, or just relax in the friendly atmosphere of the centre.
The Spiritual Programme
As a volunteering visitor you are welcome to take part in the spiritual activities at Manjushri Centre. In the evenings you can attend General Programme classes on Buddhist thought and meditation or you can attend daily prayers in the Temple. At weekends we hold Prayers for World Peace and regular weekend courses. The weekly classes are all free to volunteering visitors, but if you wish to attend a weekend course while you are here please book and pay at Reception (This does not include the Spring or Summer Festivals). Please note there are no classes during our term breaks.
Costs
We will provide seven days free dormitory accommodation and three vegetarian meals a day in exchange for 25 hours of work (usually spread over five days). The week is generally Monday to Friday but some Weekends are required. 2 days free time so an ideal time to travel into the Lakes, Coniston is only half hour drive away, or just relax in the friendly atmosphere of the centre.
A volunteer visit can be arranged for short term or long term periods but we reserve the right to ask a volunteer to leave if problems arise.
Volunteering visits MUST be booked in advance.
Food and accommodation
All meals are vegetarian including eggs and dairy products.
We offer comfortable dormitory accommodation - all you need to do is bring a sleeping bag, and if possible, work clothes and boots.
Please note: Since Manjushri Centre is a Buddhist Centre, visitors are asked not to drink alcohol or smoke on the premises. We also ask the visitors not to play musical instruments or sound systems on the property.