Booking Info
Please read the following information carefully.
Booking & Payment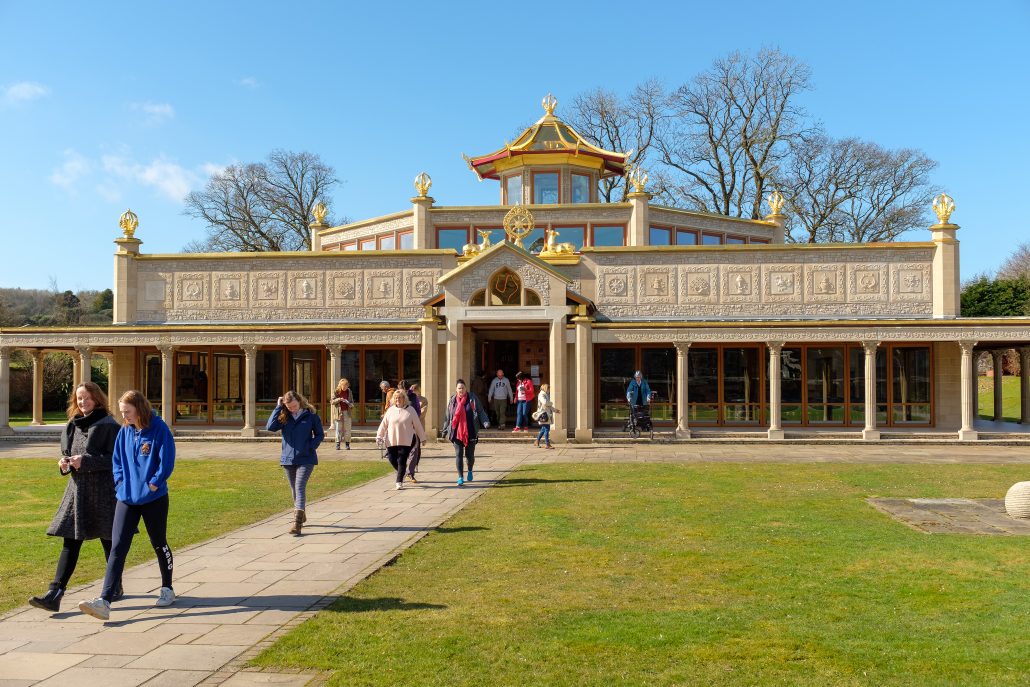 So that we can best prepare for your visit, we ask that you please book at least 24 hours in advance.  All course bookings must be made using the relevant booking form.
Please see individual course pages for links to online booking forms.
Overnight guest stays (ie. those not attending a course) must also be booked at least 24 hours in advance. Please contact our reception team for more information and to check availability.
Payment: Depending on the length of the course you are attending, either full payment at time of booking (General Programme classes, Day Courses/Retreats, Public Talks), or a minimum 25% deposit is required at the time of booking.  All balances must be paid at least 72 hours before the start of the course/retreat.
In-person courses may be booked with or without accommodation.
Overnight guest stays who are not attending a course, full payment is required at the time of booking.
Accommodation
We offer the following types of accommodation:
Ensuite single, twin, and triple rooms (mainly on the 2nd floor of the main Priory building or adjacent cottages).
Standard single and twin rooms with shared bathroom facilities.
Dormitory accommodation mainly with bunk beds
All linen and towels are provided in single, twin, and triple rooms.  Bed linen is provided in dormitory accommodation but please bring your own towel.
Conishead Priory is a listed building and we do not have a lift.  If you have any mobility issues or special needs please tell us at the time of booking and we will do our best to accommodate you. We do not currently have any ensuite accessible rooms.
Children & Young Adults
Children (under 16) and Young Adults (16 & 17) are welcome to attend courses/events at Manjushri KMC.  We consider their safety and wellbeing to be of the utmost importance and for this reason some special conditions apply.
All under 16s must be accompanied by a parent/legal guardian, or other adult care giver (over 18), and they remain the responsibility of that adult at all times. We do not offer child care facilities and Manjushri KMC cannot be held responsible for children whilst on site.
All 16 & 17 year olds must be accompanied by an adult (over 18).
Children's Discounted Rates
The following discounted rates apply:
Course/event fees:  0-7 yrs FREE, 8-15 yrs = 50%, 16+ = as adult
Accommodation:  Children occupying a bed space are required to pay full price (unless 3 years or under and sharing a bed with parents = Free).
Meals:  Full price.
Enquiries
Enquiries about accommodation availability and all our courses can be made by phone on 01229 584029 (reception hours:  9.30am -1pm, 2pm – 5pm Daily) or by email to info@manjushri.org
For enquiries about existing bookings, please use the 'contact us' button in your booking cart.