Volunteering is an ideal opportunity to enjoy a rewarding break where you can quickly feel part of our thriving community.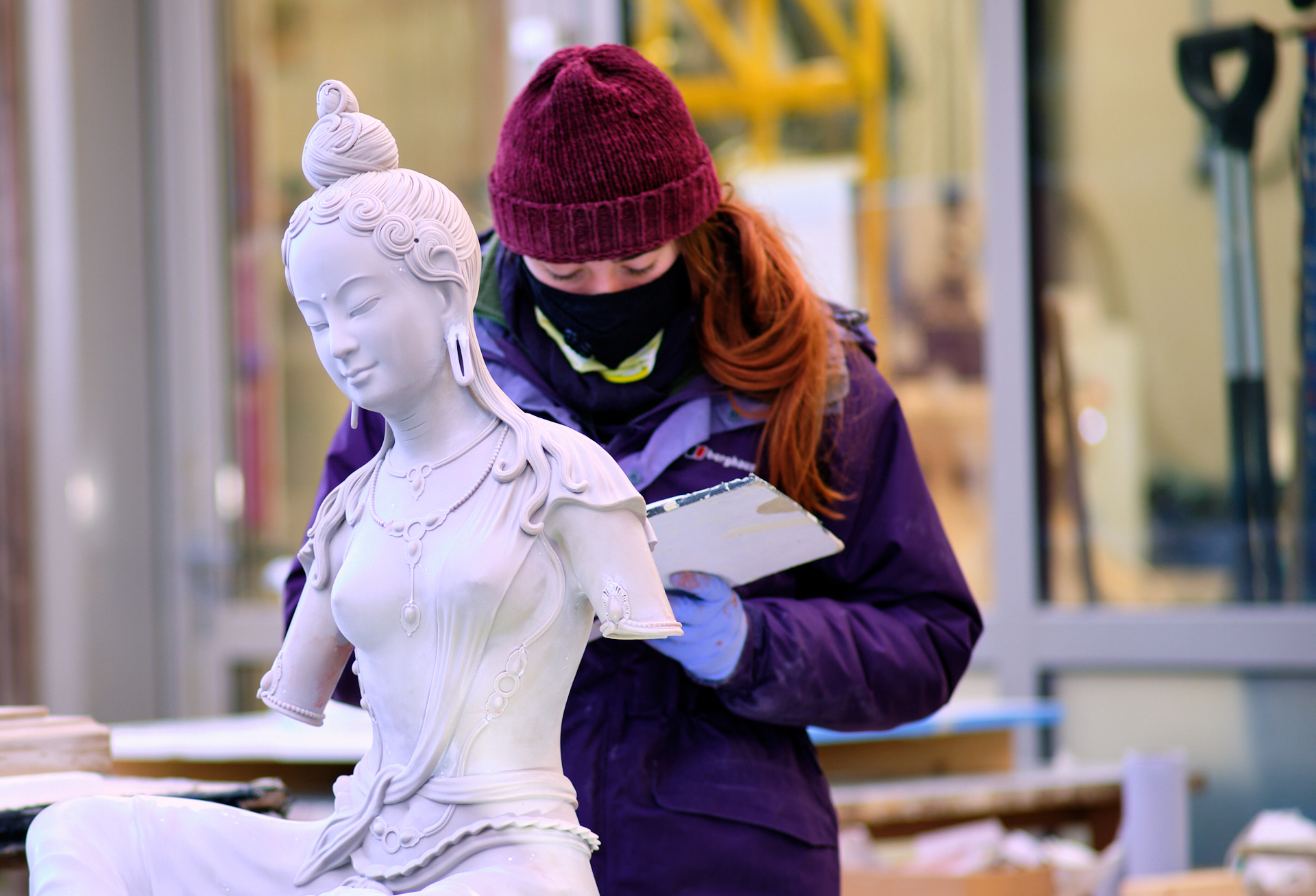 Volunteering at Manjushri KMC offers a perfect opportunity to experience first hand the Buddhist way of life within a busy, vibrant, international community. There are many ways in which you can help eg. by joining in the day to day activities of the Centre itself, such as serving in the cafe, helping to prepare guest rooms, cooking, gardening, joining a renovation project,  or helping in  Kadampa Art Studio, Tharpa Publications and Kadampa Internet, all of which are based at Manjushri KMC.
"I had an amazing time during my volunteering visit. Everyone was really down to earth and friendly. I loved the classes on Meditation and Buddhism, and was greatly inspired to see a community that was striving to put the teachings into practice. Plus, the other volunteering visitors were great fun too."
"Thank-you all very much for making me feel so welcome. I have gained so much from my visit and have been truly inspired by the peace and compassion that everyone holds in their hearts and shows in their good deeds."
What to expect
Conishead Priory is a Grade 2* Romantic Gothic House located just south of the English Lake District It is situated in 70 acres of woodland and gardens on the shores of Morecambe Bay. It provides a quiet and reflective environment for a meaningful break.
Volunteers join in many areas of community life, such as cooking, gardening, housekeeping, decorating etc. There are often building projects, and we are are always interested to hear about any specific skills you may be able to offer. Whilst these activities are not always strenuous you will need to be reasonably fit and active to come on a volunteering visit.
Typically you will volunteer Monday to Friday but depending on the activity, it may also include weekends. You will have two days free each week when you can explore the Lakes, or just relax in the friendly atmosphere of the centre.
The Spiritual Programme
As a volunteering visitor you are welcome to take part in many of the spiritual activities at Manjushri Centre. At present we have daily guided 15 minute meditations as well as evening classes and courses over the weekend.
The classes are all free to volunteering visitors, but if you wish to attend an evening or weekend course while you are here please book on manjushri.org
(This does not include the International Festivals). Please note there are no classes during our term breaks.
How long can I volunteer for?
A volunteering visit can be arranged for short or longer term, but will always start with a one-week trial. We reserve the right to ask a volunteer to leave if problems arise. Volunteering visits MUST be booked in advance, and you will be asked to provide references.  We are unable to accept anyone who has not completed the full application process.
What we provide
We will provide seven days free dormitory accommodation and three vegetarian meals a day.  Your volunteering commitment will be 30 hours (usually spread over five days).
All meals are vegetarian, we do provide vegan and wheat free options, please notify us in advance.
What to bring
You will need to bring your own towel for dormitory accommodation. You should also have sturdy footwear and if possible waterproof outer layers. In general you should bring comfortable clothes suitable for the season and for a range of tasks.
Community Life
We ask that all our volunteers follow some basic principals of living within a Buddhist community, namely; not to drink alcohol, smoke, or eat meat on the premises. We also ask you not to play musical instruments, and to use headphones if listening to music.