Manjushri KMC is an internationally renowned centre for meditation, where everyone is welcome to enjoy a peaceful environment or join in the many programmes offered throughout the year. Whether you are looking for a day visit to the Buddhist Temple, house or grounds, an introduction to Buddhist meditation, or in depth courses and retreats, Manjushri KMC offers an enjoyable and meaningful experience.
Daily free 15 minute guided meditations
Held in the World Peace Temple, everyone welcome. Each day there is a guided meditation at 12.30pm and 2pm.
A Public Talk on Meditation and Buddhism
Meditation for busy people
Finding Peace in a Hectic World
Sunday February 10 11.00am - 12.30pm
with International Teacher Gen-la Kelsang Dekyong
In the World Peace Temple - Everybody Welcome
with Gen Rabten
Week 1 & 2: Jan 4 - 18
with Gen-la Dekyong
Week 3 & 4: Jan 18 - Feb 1
The new brochure features a series of new courses and events for 2018 - 2019.
The new brochure of the International Teaching Programme of Festivals & Dharma Celebrations is now printed and being shipped around the world.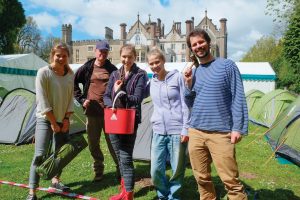 Take a break with a difference
Volunteering is an ideal opportunity to enjoy a rewarding break
where you can quickly feel part of our thriving community.