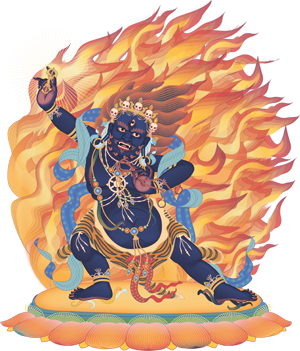 SPECIAL EVENT WITH GEN-LA KELSANG DEKYONG
BUDDHA VAJRAPANI EMPOWERMENT
NOVEMBER 20 – 22, 2015
WITH TEACHINGS ON GUARDING THE MIND
Guarding the mind is the very essence of Buddhist practice. Since the main causes of suffering are deluded and negative states of mind, to be free from suffering we must guard or protect our mind from delusions and inner negativity.
Vajrapani is the embodiment of the spiritual power of all the Buddhas. By receiving his empowerment we receive a special positive strength that enables us to destroy our delusions and succeed in our spiritual practice.
Followed by a guided retreat with Kadam Neil Elliott, November 22 – 24.
Day Course
Meditation for Healing
December 5, 2015
A SPECIAL CHRISTMAS
&

NEW YEAR

FIVE FESTIVE EVENTS WITH GEN-LA KELSANG DEKYONG
Take some time to relax and recharge by coming to one, all or any combination of these events. Stay over in the peaceful environment of Manjushri KMC and return home refreshed and inspired for the year ahead.
The New Kadampa Tradition

The New Kadampa Tradition – International Kadampa Buddhist Union is an international association of Mahayana Buddhist study and meditation centres that follow the Kadampa Buddhist tradition founded by Venerable Geshe Kelsang Gyatso.